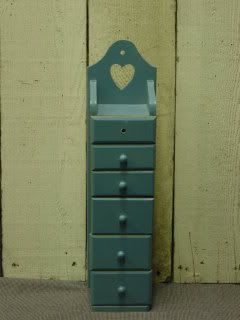 Michael brought this cute little apothecary chest home a LONG time ago.   Remember when this shade of blue (and MAUVE and hunter green?) were THE colors?!?!  Personally, I went the hunter green route and never touched the country blue or mauve, but I sure SAW it everywhere I looked!  There must be MILLIONS of sad and neglected country blue accessories hidden away in attics and garages and basements everywhere, waiting for it to 'come back into style'.  Wake up people!  It's NOT coming back into style.  But that doesn't mean you have to get rid of it!
This particular piece sat for a VERY LONG time because I couldn't figure out what to do about that one missing knob for the top drawer.  I looked and looked and looked for a suitable replacement, to no avail.  Finally I just decided to see if I could take the other knobs OFF and then just replace them all instead of trying to match that one teeny TINY knob.  THAT was the answer!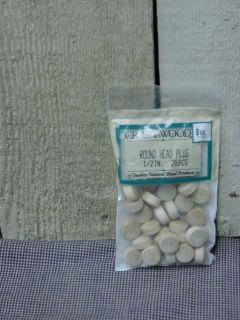 And I just glued on some little wood 'buttons' (the PLUG kind you can buy to cover up screw holes in furniture).  Then I covered up the heart with a little wood carving; purchased at the craft store.   (just glued it on with Aleen's tacky glue)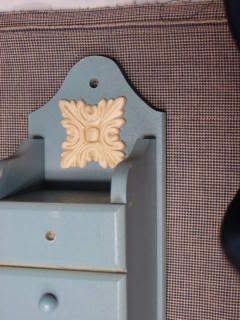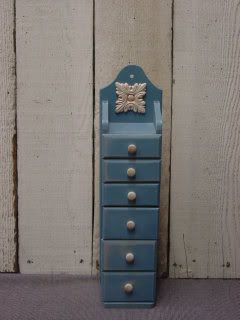 Now it's ready for a fresh coat of paint.  I decided to go BLACK for a more primitive look, but I think it would have worked just as well being painted white for a shabby look.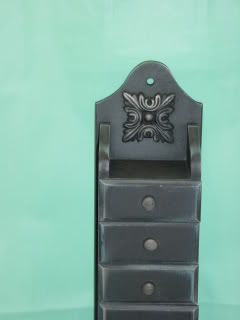 I almost didn't distress it because I didn't want the blue to show through.  But next to the black, it really looks more gray, so it was fine.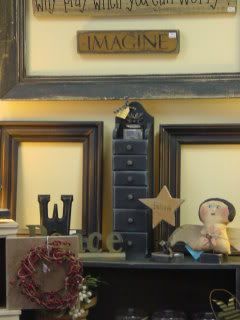 Okay now, go dig out that county heart shelf you have stashed away and fix it up.
OUR WEBSITE: www.cscrafts.com/aj.html
OUR BLUJAY:  http://www.blujay.com/folk_art_originals
VISIT OUR ETSY STORE: http://www.etsy.com/shop.php?user_id=5876981
~ primitives ~ trash to treasure ~ shabby chic ~ cottage ~ Paris apartment ~ repurposed home goods ~ repaired ~ restyled home decor ~ reused ~ recycled art ~ handcrafted gifts ~ one of a kind ~ artist originals ~ second hand style ~ junk market style ~ flea market style ~ beautiful junk ~ beach cottage décor ~ unique home décor ~ vintage home décor ~ unique gifts ~ custom made gifts ~ custom made home décor ~ personalized signs ~ Sophie's Cottage ~ grubby candles ~ how to craft books ~ Shabby Paris apartment ~ baby gifts ~ personalized gifts ~ AJ Finsand ~