So, things were moving right along. I've been working away to be ready for the move.  Figured out who would keep what of our shared possessions.   Started shopping for the things I knew I'd need; a new vacuum, a blender, a toaster, shower curtain, plunger  . . . all that FUN stuff you need in a home.
~::~  (so if you are wondering what this > ~::~ is; it's a spacer for paragraphs because for some reason I can't get them to separate any other way just now, and I hate reading blogs that don't use paragraphs because they are nearly impossible to read!)
I EVEN allowed myself to 'splurge' a little on some 'pretties' when I could find them at the right price.  Although since I've been 'packing as I go' I have a feeling I have forgotten half the stuff I bought!  Gonna be like Christmas when I unpack at the new place!
Made my list of people and places that I'll need to give my new address and phone number, and list of 'other stuff to do' like order new checks when I have the new address; change the address on my PayPal account.  Had to decide who will keep the cat.  Michael won that decision primarily because Spike to TOO FAT for me to carry to the vet for his shots! (but I will continue to split the cost of his care)
I was really feeling like I 'had a handle' on the whole thing . . . .
Then, out of the blue a couple of weeks ago I get an email from my son.  "We need to talk about your move.  Can you meet me for lunch this week?" I FREAKED!  I kid you not, I went into instant PANIC mode.  Told him that while I could meet him for lunch, I could NOT wait until then to hear what I assumed  could only be BAD news about my move to the apartments!  I told him I had the move VERY well planned out, money saved to hire movers . .  . everything.  WHAT could he possible need to talk to me IN PERSON about?!?!?!
We scheduled lunch but I IMPLORED him to tell me "what was up" because I could only imagine the WORST!  So, he told me that he and Megan (his fiance') just hated the thought of me throwing away my money to rent an apartment for the rest of my life, and that they had decided that they were in a position to help me by buying a house to rent to me.
WHAaaaAAAAAAAAAAAAAAAAAAAAAAAAAT?!?!?!?!?  Um, you have a wedding to plan and should be shopping for your OWN home right now!  You don't have time to shop for a house for me?!??!  Actually they had already been looking and already had a few prospects!  Who IS this young man and what has he done with my SON?!?!  Of course I'd LOVE to live in a house as opposed to an apartment, but it seems like a lot for them to take on right now.  He said, "We're good.  Work is a little slower now."
So, I guess my son and future daughter in law are 'house shopping; for me.  Nothing fancy,  Probably a fixer upper; just cosmetic stuff, nothing structural.  I'm fine with that.  Then the phone rings on Saturday, it's my son  He tells me to go check my messages on Facebook because he sent me a link to a house and that he's going to put in an offer on it!!!
It's ADORABLE!!!  A petite 1950's bungalow with a white picket fence?!?!?  Are you kidding me?!?!  And a GARAGE for me to use as a workshop!  SCORE.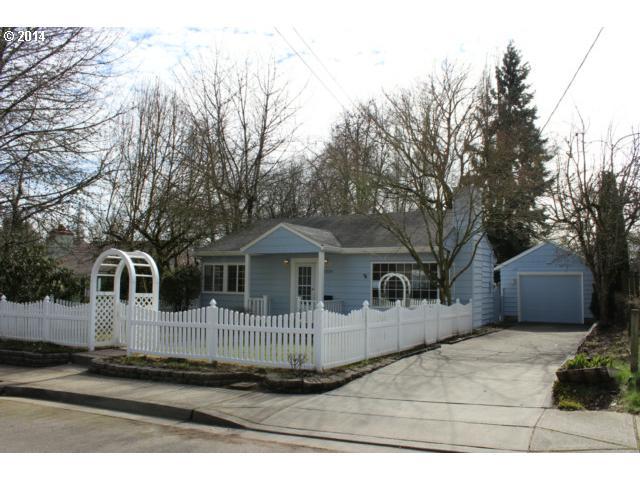 AND it's MOVE -In ready!!  Which I would really, REALLY love so as to not have extra work for my son to have to do (or arrange to have done) at this already very busy time in his life.  I love the location.  Walking distance to Farmers Market.  And the front yard is 'dog ready' and fully fenced.  (back yard fence needs dome repair)  I have been dog-less for way too long!!
~::~
Please say a prayer that their bid on this house is accepted.